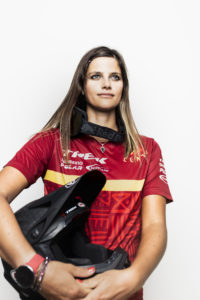 Cycling has been a very important part of my life since way back when. It´s mainly the speed and feeling of freedom that got me hooked on this sport. Another passion is nature, so to be able to combine my beloved sport with the possibility to explore the beauty of the outdoor world is an incredible bonus for me.
I started racing BMX when I was 12 years old and for the last two decades I have dedicated a large proportion of my life to training and racing BMX and mountain bikes. I raced multiple 4X World Cup seasons and then expanded into enduro, freeride and, more recently, the downhill World Cup. I am a five-time national BMX & 4X champion and winner of the bronze medal in the 4X World Champs 2014 and 2015.
My competitive nature has also enabled me to complete a Master of Science in architecture and a PR degree. Today, I am a familiar face across the world of mountainbike media thanks to the racing, travel and project work that surrounds my outdoor lifestyle on two wheels. After a major injury in 2016 I switched my focus away from racing in the direction of exploration, adventure and freeriding.
I feel like I truly am 'Riding The Dream'.